Stay tuned for updates on our 2019 schedule!
2018 Featured visual artists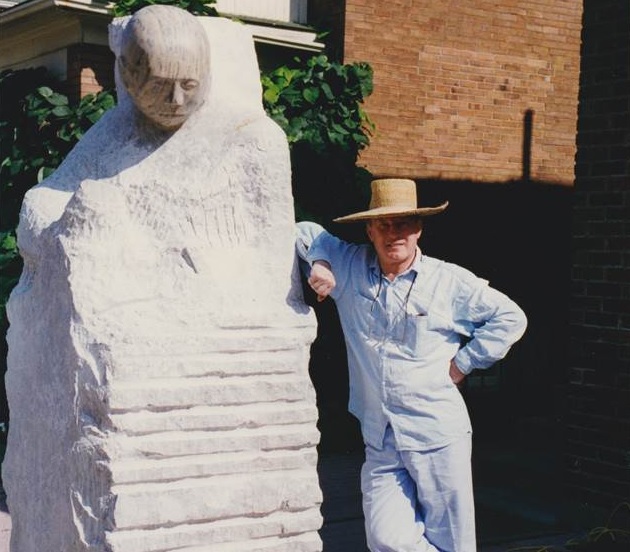 VALERIO RACCA
AUGUST 18 & 19 ALL DAY POP UP GALLERY AT MEMORIAL HALL
Valerio has been painting , sculpting, printing, sketching, and building with one form of art or another, for as long as he can remember. He is an adventurer and explorer in the art world, always enjoying the challenge of self discovery through the use of new materials and techniques. He has won numerous awards, but no longer enters juried exhibitions, merely working for self satisfaction. We are please to be able to share an incredible sampling of his long life of creating.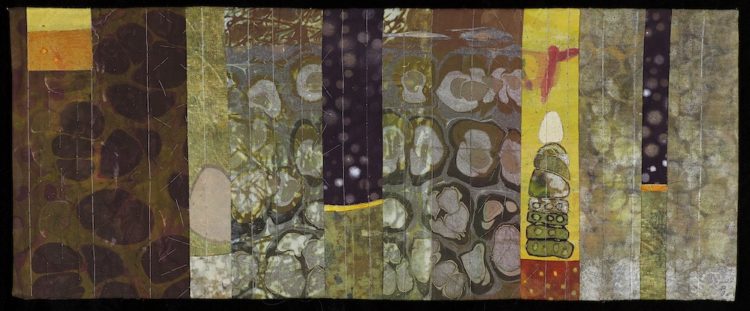 JO FITSELL
AUGUST 18 & 19 ALL DAY POP UP GALLERY AT MEMORIAL HALL
Jo is an artist working with fiber, paper, paint and the stitched line. Her art has been exhibited nationally and internationally. In Colorado, her artwork is in Kaiser Permanente, Oracle, and The Denver Seminary. Jo currently teaches at The Art Students League in Denver and is a "Think 360" artist-in- resident and has had many rewarding collaborations with young people. She is one of the founders of the vital and exciting organization, Front Range Contemporary Quilters.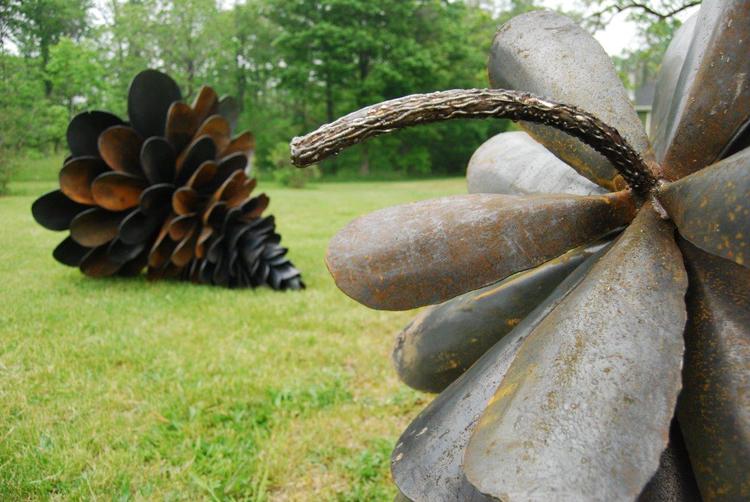 FLOYD ELZINGA
AUGUST 18 & 19 ALL DAY POP UP GALLERY AT MEMORIAL HALL
Floyd received a Bachelor of Fine Arts from the Nova Scotia College of Art & Design in Halifax, NS. He was initially drawn to steel, due to its malleable, plastic and forgiving nature, and he continues to utilize its range of colours as well as the way light plays off the surface. He has been exploring traditional metal working techniques to create textures and depth the same way a painter would use a paintbrush.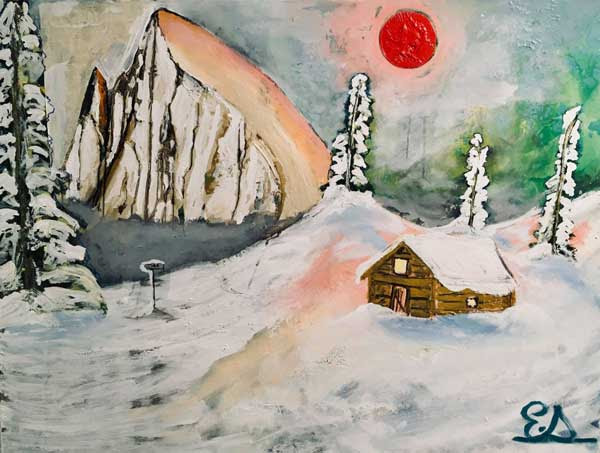 EVAN SHARMA
AUGUST 18 & 19 ALL DAY POP UP GALLERY AT MEMORIAL HALL
Evan is a fauvist artist who first received national acclaim when, at 12 years old, his work was shown at Toronto's Artist Project. His paintings have drawn comparisons to those of Basquiat, Condo and Picasso, and have been acquired by collectors from New York, L.A. and Dubai. Evan recently launched the RBLB (Right Brain/Left Brain) brand of sneakers to help drive home the idea that to maximize your potential, you have to use both your artistic and logical brain.
MARY KARAVOS
AUGUST 18 & 19 ALL DAY POP UP GALLERY AT MEMORIAL HALL
Mary is an award-winning artist. Her art was greatly influenced by the beautiful mosaics while studying in Florence, Italy. She "paints with paper"- piece by piece, paper on paper through process and exploration the images evolve into a unique interplay of textural and colourful originals. Mary actively exhibits and sells her work in select galleries and juried exhibitions locally and internationally.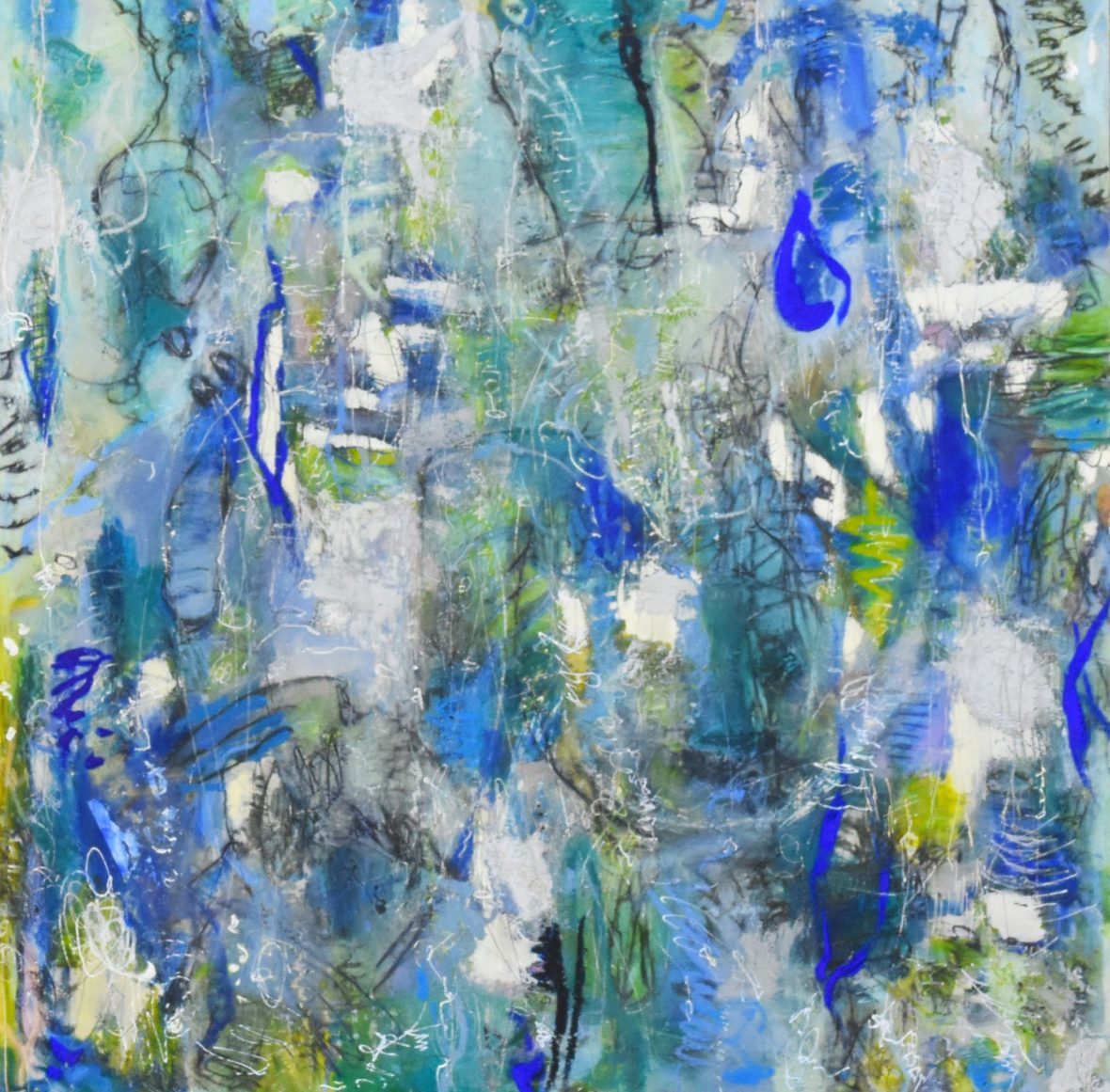 LINDA BLAKNEY
AUGUST 18 & 19 ALL DAY POP UP GALLERY AT MEMORIAL HALL
Linda has been part of the Advanced Studies Program for more than 7 years in Dundas. Previously, she has studied art at the Ottawa School of Art, Algonquin College, St Lawrence College and has completed many additional arts related classes. Linda continues to be influenced by an early career in medical imaging where images have meaning but are slightly obscured. She currently works as a psychotherapist and career coach; this has a strong influence on the direction of her artwork. Ideas of personal struggles, conflict and resilience are underlying themes.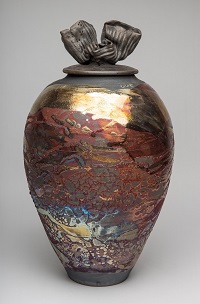 SHU-CHEN CHENG
AUGUST 18 & 19 ALL DAY POP UP GALLERY AT MEMORIAL HALL
Shu-Chen is a full time ceramic artist, originally from Taiwan. Her award winning Raku vessels has been exhibited in galleries and juried shows, including the Toronto outdoor art exhibition. Her timeless ceramic work is also in the permanent collection of Burlington art centre, Burlington potter's guild and Waterloo potters' workshop. In 2008, her raku work was purchased by Hamilton Airport and is on display at the International Arrival Hall.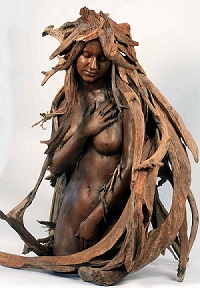 JAMIE BRICK
AUGUST 18 & 19 ALL DAY POP UP GALLERY AT MEMORIAL HALL
Jamie's art reflects a didactic ascension into a downward spiral, metamorphosing into a translucent solid of good vs. evil and his fear of abandonment. He uses polymer clay, stone, wood and mixed media to create creatures from a world that lies just left of centre. Jamie works out of his studio in Kingston Ontario, which he calls 'Bear Bottom studio'. His current work involves taking casts of people's bodies and transforming them into fantasy characters from his imagination.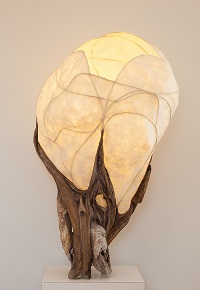 KRISTINA KIRKWOOD
AUGUST 18 & 19 ALL DAY POP UP GALLERY AT MEMORIAL HALL
Kristina completed her four year degree in Visual Art at York University in 1991. While at York she acquired experience in drawing, painting and print making. Today her art has moved toward the textural and inventive applications of found objects melded into her work. Her inspiration comes from nature. She holds a reverence for nature and the common experience it provides for us all.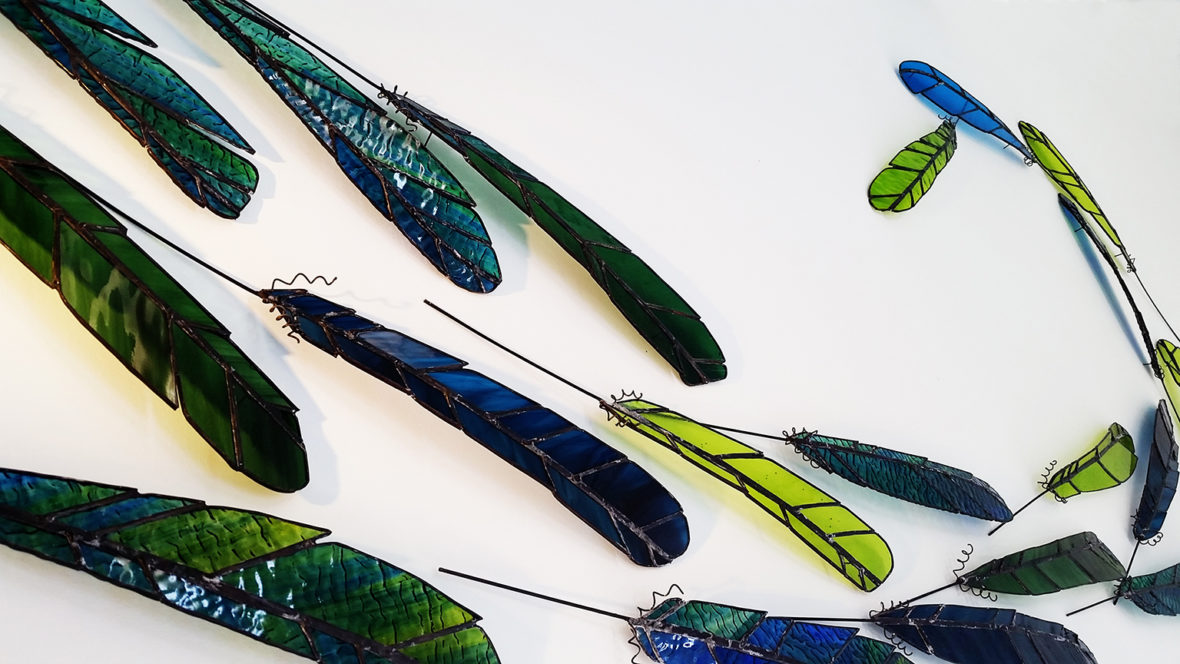 TERESA SEATON
AUGUST 18 & 19 ALL DAY POP UP GALLERY AT MEMORIAL HALL
Teresa's uniquely sculptural fine art stained glass, is an artistic trademark featuring multi layers of glass panels with spun wire. Graduating from York University with a BFA in drawing and sculpture, Teresa completed her Graphic Design Diploma at Sheridan College leading her to successful career as Senior Designer and Creative Director. Her work has been shown in The Angie Strauss Gallery in Niagara on the Lake, McMaster Innovation Park, The McMichael Canadian Gallery, the Art Gallery of Burlington, The Carnegie Gallery, and the Royal Botanical Gardens.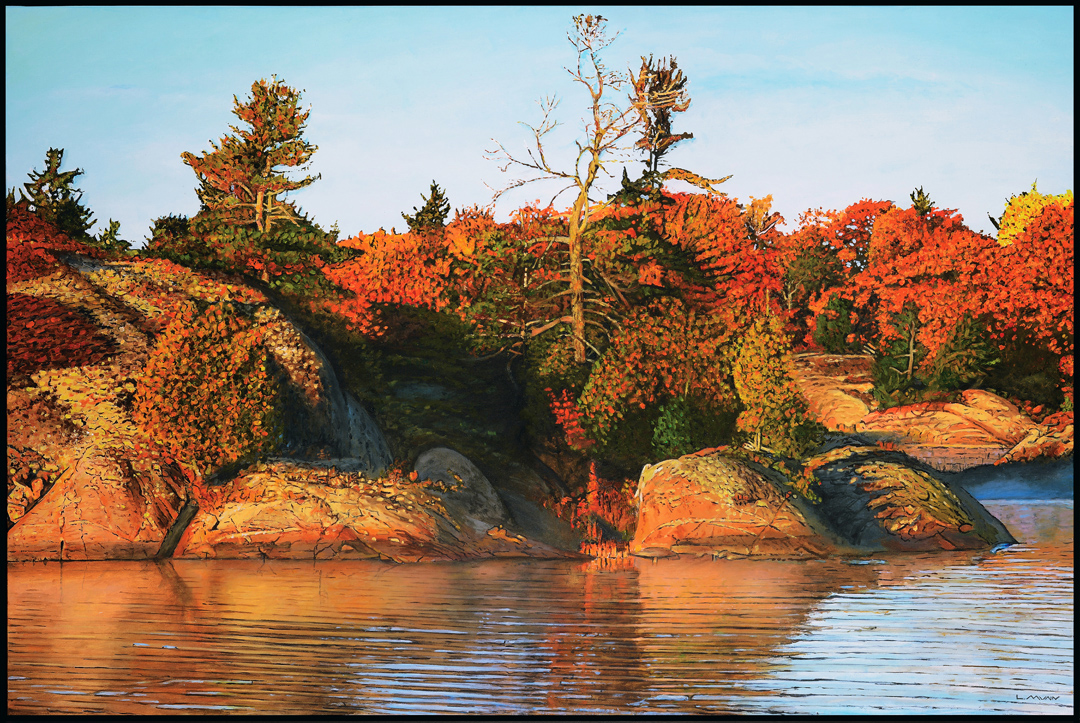 LEE MUNN
AUGUST 18 & 19 ALL DAY POP UP GALLERY AT MEMORIAL HALL
Lee is a landscape style artist. His formal art education began at the age of 16 and continued through his late teens when he studied Fine Arts at Dundas Valley School of Art, Graphic Design at George Brown College, Mohawk College and Sheridan College. He tries to show his viewers the beauty of these places. He paints with mostly with acrylics on canvas and watercolours. Lee travels all over Ontario in all seasons, painting small pieces on location and taking photographs, then bringing them home to his studio to turn them into larger paintings.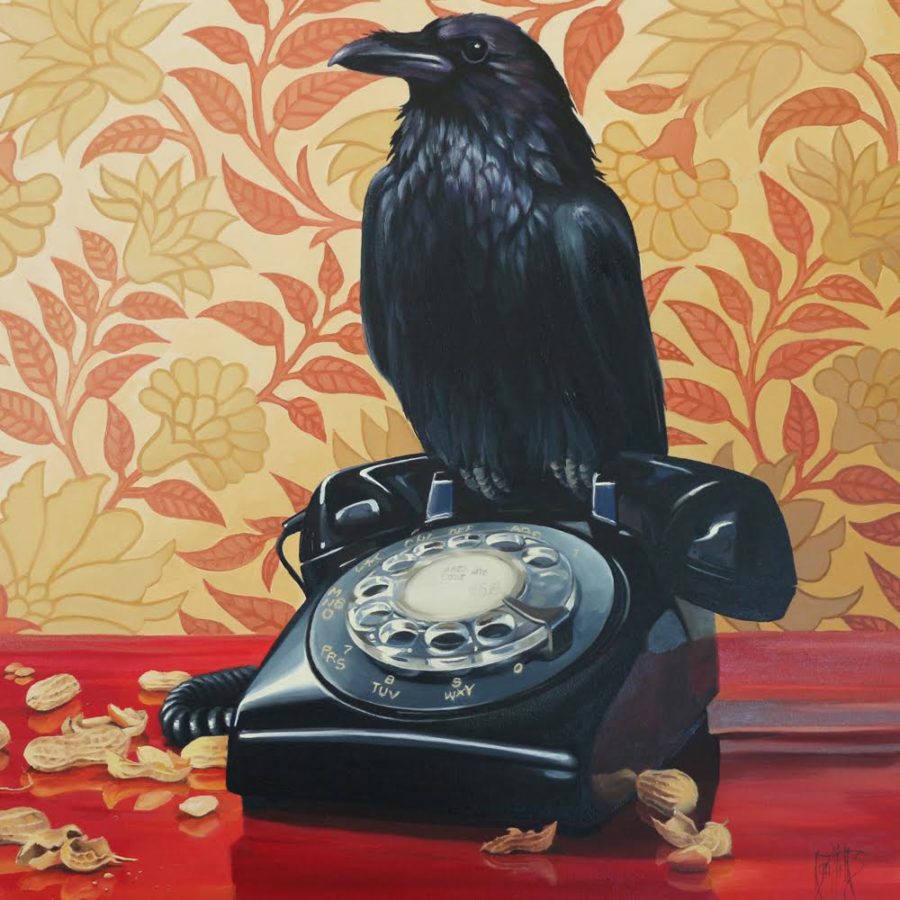 HELEN GRIFFITHS
AUGUST 18 & 19 ALL DAY POP UP GALLERY AT MEMORIAL HALL
Helen graduated from the Illustration program at Sheridan College and worked numerous years in the commercial arts profession, before she took the career path of Fine Arts. She creates images she is attracted to, and has a varied portfolio of still life, portraits and landscapes. She has received numerous awards for her work and has been mentioned in many articles in the media.